When you get Kartra, not only do you get the wisdom of Andy Jenkins and what he envisioned in a marketing machine, you also get pre-built funnels from Frank Kern (called Done-For-You Funnels / Campaigns).

 

These funnels are a bonus, as Kartra already includes almost everything you really need in your Online Business and Personal Brand:

Page / Website Builder

– Landing, Thank-You, Sales.. almost any page you can think of 

– Includes Page Templates

Email Autoresponder

E-Commerce / Shopping Cart Platform

Membership Sites

Video Hosting

Helpdesk & Live Chat

Affiliate Management Tools

Analytics & Split Testing

Calendars (this is a new addition since the above image was created)

** And a whole lot more

Quick disclaimer – Some of our articles contain affiliate links to products that we recommend and USE! We only recommend products that we have used and that we think could be beneficial to your COOL business. We might receive a small commission if you click on any of the links and sign up for the product or service, but that doesn't increase the price and may sometimes include special discounts.
This post is to highlight the Done-For-You Kartra and Frank Kern's Done-For-You List Builder Funnel: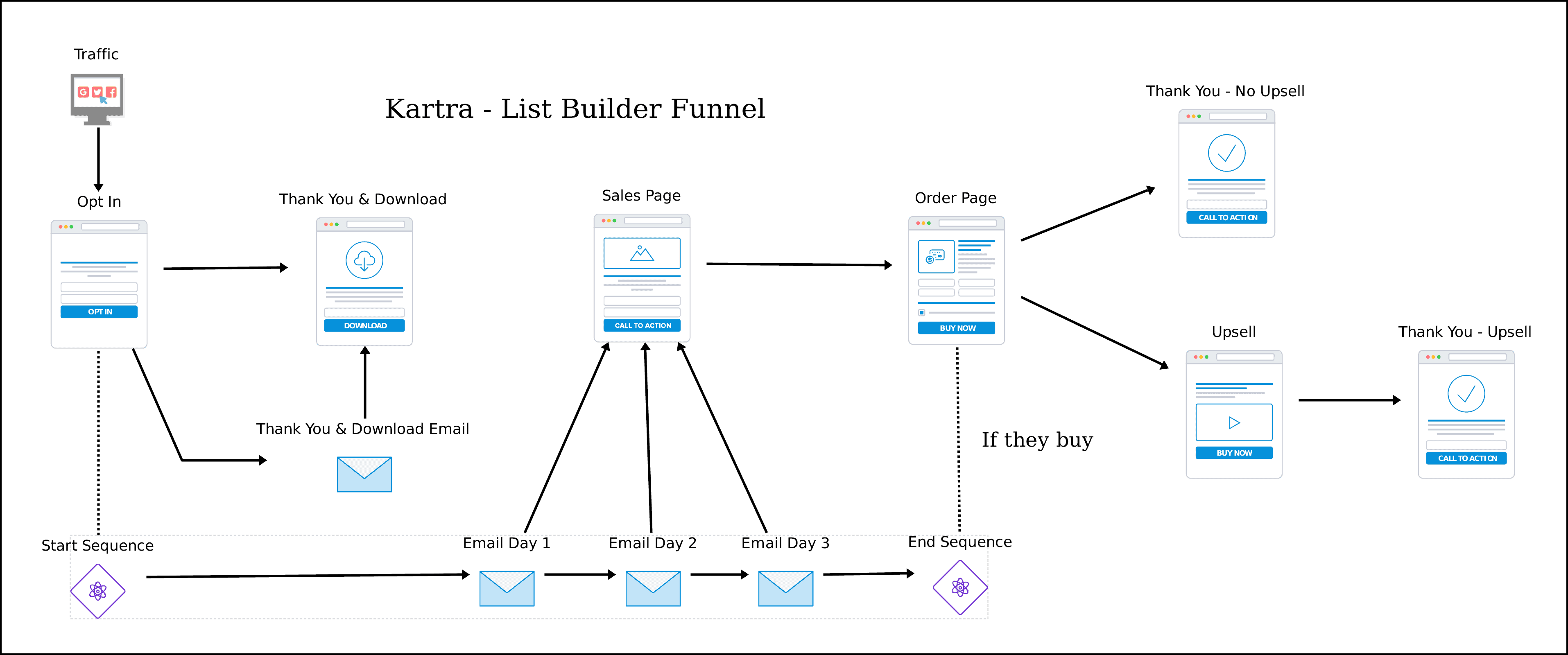 The first question that needs to be answered when it comes to the List Builder Funnel is… why the heck do I need to build a list?
Glad you asked… 
In the video below Kartra's CEO, Andy Jenkins, answers the following frequently asked marketing questions:
* How do I quickly build my online business?
* How can I take my current online business to the next level?
Here's his answer to how he'd start over again from the beginning with no product, no affiliates, no list, no fame and limited resources… here's what he'd do to make the rent in 30 days.
WHY YOU NEED TO BUILD A LIST
This funnel is for when you're just getting started with campaigns and/or want to get people on a list quickly.
The Listbuilder campaign is an ideal vehicle to put your stake in the ground as a digital marketer. As you can see, it integrates multiple components and yes, it does mean emailing prospects twice a day over three days.


Now, if that little voice of yours whispers, "That'll turn off all those on my list because I'm bugging them twice a day," let's put that to rest right now. Testing from some of the top marketing experts in the world (and across the galaxy) shows that multiple emails per day actually produces better results.


You know why? Because people's email inboxes today are overflowing. So they could very well miss one of your messages. And no one wants that.


Yep, this tried-and-true funnel works really well in building your list.
Facebook Comments